Hydraulic Cone Crusher
The advantages of Hydraulic Cone Crusher
PYY series bottom single-cylinder hydraulic cone crusher is a cone crusher with international advanced technology.
It only has high reliability, and has high crushing efficiency, low operating cost and good product particle shape;
There are a variety of crushing cavity types to choose from. By choosing the appropriate crushing cavity type and eccentricity, the most
Meet the production requirements of customers to the greatest extent and achieve high output;
Hydraulic adjustment of the discharge port can be used to adjust the discharge port in a timely and convenient manner, so that the crusher is full of materials.
Work under the state, reduce the consumption of wearing parts and reduce operating costs;
Due to the use of advanced hydraulic technology, overload protection can be effectively achieved, the structure of the crusher is simplified, and the weight is reduced. All repairs and inspections are available
It can be done from the upper part of the crusher, making maintenance more convenient.
The working principle of Hydraulic Cone Crusher
Hydraulic cone crusher consists of the frame, transmission, hollow eccentric shaft, bowl-shaped bearing, crushing cone, springs and hydraulic pressure station for adjusting discharge opening. During operation, the motor drives eccentric shaft shell to rotate through a horizontal axle and a pair of bevel gear. The axle of crushing cone swings with the force of eccentric shaft shell so that the surface of the crushing wall is close to the roll mortar wall from time to time. In this way, the ores and rocks will be pressed and crooked and crushed.
Product picture of Hydraulic Cone Crusher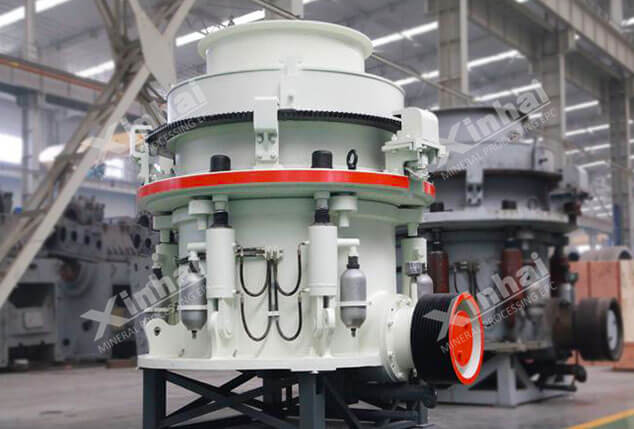 FAQ about Hydraulic Cone Crusher
How to Avoid Crusher Blockage
The main reason why crusher occurs blockage is material properties. Because the material contains much moisture, the ore material has a certain viscosity. When the ore material is sent to the crusher for crushing into small pieces, the ore material will stick together, and block between two pieces of jaw plates of crushing cavity, then causes material blockage phenomenon; Or the ore material is mixed with a large amount of sticky soil, so that the material is blocked in the crushing cavity.
Product Parameter
Model
Cavity
Inlet Dimension (mm)
Max. Feed Size (mm)
Min. Outlet Dimension (mm)
Max. Feed Dimension (mm)
Power
(kW)
Weight
(t)
Stroke
Stroke
Stroke
Stroke
Stroke
Stroke
PYY100
16
22
16
22
90
6
A
150
120
12
15
39
37
B
130
105
10
11
33
31
C
100
85
7
9
33
30
D
40
32
5
6
31
29
PYY200
18
25
18
25
160
10.6
A
220
180
18
22
35
30
B
150
120
15
19
35
30
C
80
60
9
12
35
30
D
40
32
6
8
35
30
PYY300
25
32
25
32
250
18.5
A
230
190
20
25
45
40
B
150
125
17
20
45
40
C
80
60
10
13
40
35
D
40
32
6
8
40
35
PYY500
25
32
40
25
32
40
315
22.5
A
230
180
22
26
30
50
45
40
B
150
125
19
22
26
48
43
38
C
100
80
12
14
16
40
35
30
D
50
40
8
10
12
30
25
20
Related Products