PROCESS DESCRIPTION
Good tailing dewatering effect
Using three kinds of patent equipment in dewatering in proper order: Xinhai concentrated type hydrocyclone + high-efficiency deep-cone thickener + high-efficiency high-frequency dewatering screen. The final concentration is over 85%, realizing dry stacking.
Low technology operation cost
Tailings dry stacking technology reduces the equipment investment and construction investment with unique equipment combination. Xinhai patent equipment has a good effect on dewatering, with low energy consumption. The working life is highly extended, and the operation cost is further decreased.
Long working life
The inner liner of tailings dry stacking technology is Xinhai wear-resistance rubber. The wear resistance index is up to 128%. According to the specific ore characteristics, different characteristics of rubbers are used. It has a wide range of applications. The working life of the whole production line is twice of the common production line. It greatly reduces manual maintenance. The maintenance cost reduces at least 2 yuan/t.
Patent equipment
Xinhai tailings dry stacking technology uses three innovative national patent equipments, which provides strong support for tailing concentrating technology:
Xinhai concentrated type hydrocyclone has a siphon device on the upside. The downside has a fishtail device (The siphon and fishtail device both required the national patent). Through adjusting the siphon device, the downflow concentration can be adjusted, commonly about 75%. It largely reduces the investment of follow-up equipment in tailings dry stacking technology.
High-efficiency deep-cone thickener and multi-cone thickener install tilted plates in it, which increases the settlement area of thickener. The settlement area increases more than eight times, improving downflow concentration and capacity.
High-frequency high-efficiency dewatering screen has a unique sieve plate structure. Adding multi-frequency vibration of the motor, the mineral particles are not easy pass the sieve pore, and the dewatering efficiency is higher.
Comparing the main equipment indexes of 4000tpd tailings dry stacking project
The capacity is 4000t/d. The granularity is 65% -200 mesh. The concentration is 30%, and the pH is neutral.
Main equipment

Number of equipment

Total power (kw)

Vulnerable parts and life

Products moisture (%)

Cost of production (yuan/t)

Belt filter press

One Φ45-53m thickener
4-5 90m2 belt filter press
4-5 vacuum pumps
10 slurry pumps

700kw

Filter cloth
3-5 months

14-18

6-8

Chamber filter press

One Φ45-53m thickener
8 106m2 chamber filter press
16 slurry pumps

350kw

Filter cloth
2-3 months

16-20

5-8

Ceramic filter

One Φ45-53m thickener
10 Ceramic filter
10 vacuum pumps

600kw

Ceramic plate
2-6 months

8-12

5-8

High-frequency dewatering screen

2 Φ15m multi-cone thickeners
5 slurry pumps
2 hydrocyclones
4 GVD1536 high-frequency dewatering screens

220kw

Screen cloth
8 months

15-20

2-4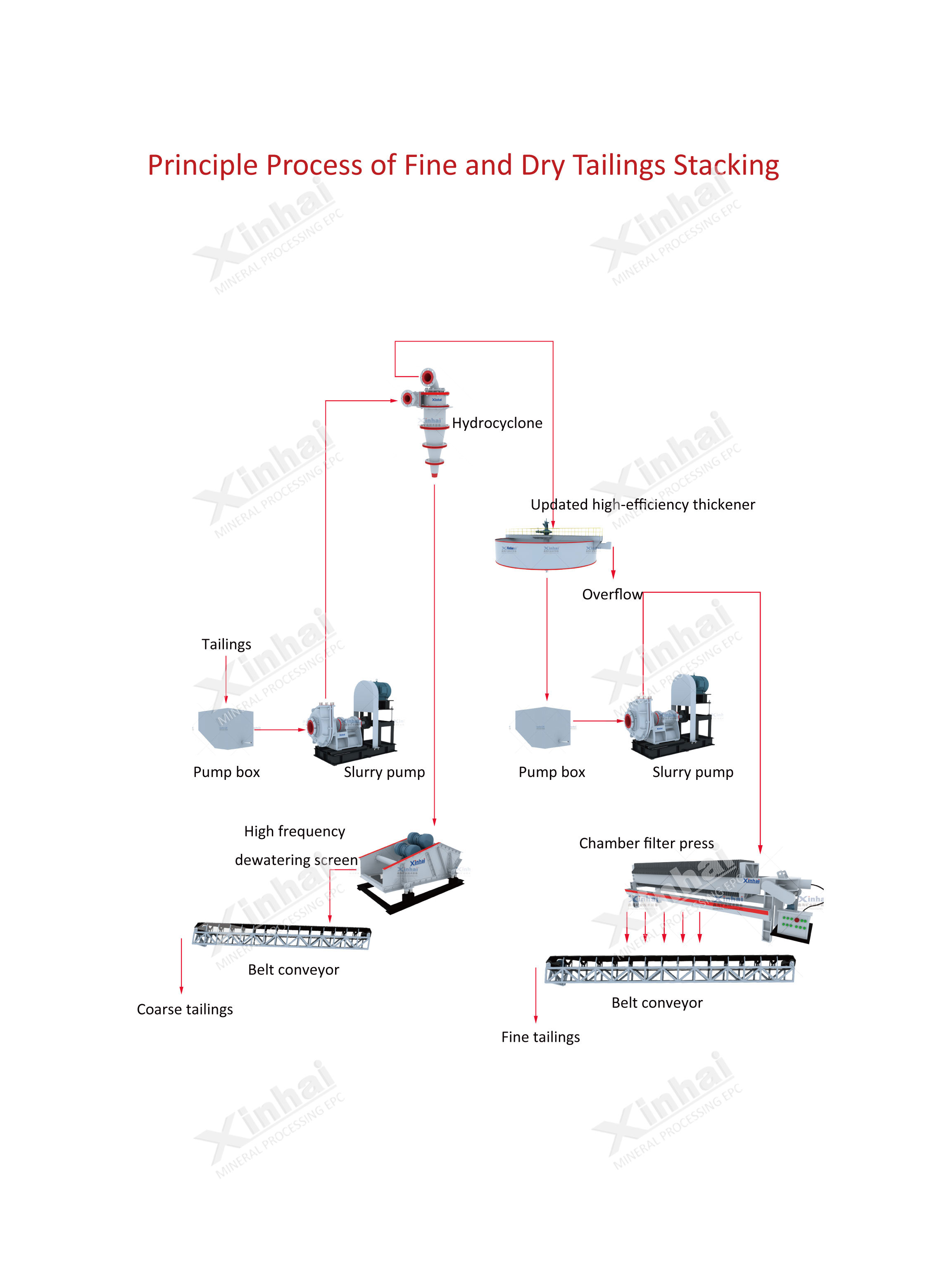 Process Equipment