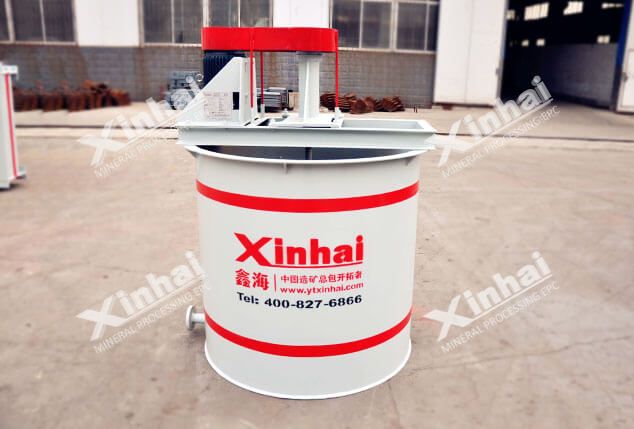 Agitation Tank For Chemical Reagent
【Product Introduction】: An agitation equipment used in reagents preparation
【Applicable Materials】:Used for the agent preparation before the floatation.
【Production Capacity】:0.094~14.8m³
【Product Application】:Used for the agent preparation before the floatation.
WeChat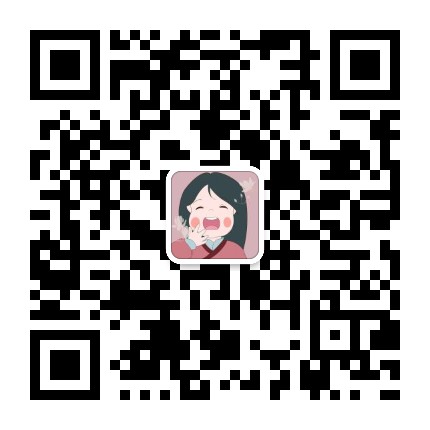 ADVANTAGES
01 Excellent wear-resistance, long service life;
02 Strong agitation capability.
PRODUCT STRUCTURE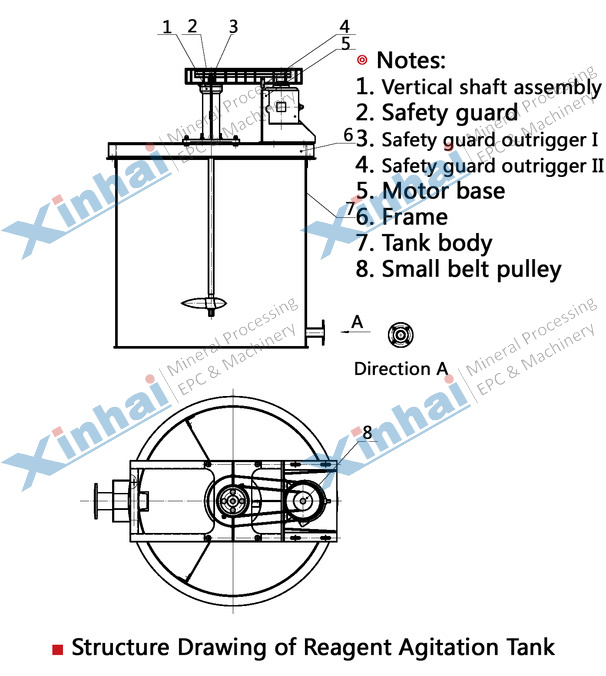 Agitation tank for chemical reagent adopts barrel shaped radiation circular spiral impeller for mixing operation by the mechanical stirring method. The motor drives the V- belt transmission device which drives the impeller. Reagents mix evenly under the rotation of the impeller preparing for the next step that mixes the ore slurry and reagents.
An agitation tank for chemical reagent is used for reagents preparation before flotation.
Product Parameter
Model
Effective Volume (m3)
Rotating Speed of Impeller (r/min)
Diameter of Impeller (mm)
Motor Model
Motor Power
(kW)
Weight (kg)
BJW-500X600
0.094
493
200
Y80L-4
0.55
120
BJW-750X750
0.25
530
240
Y100L-6
1.5
230
BJW-750X1000
0.35
530
240
Y100L-6
1.5
270
BJW-1000X1000
0.58
530
240
Y100L-6
1.5
420
BJW-1250X1250
1.15
492
310
Y100L1-4
2.2
490
BJW-1500X1500
2.2
320
400
Y132S-6
3
1310
BJW-2000X2000
5.46
230
550
Y132M2-6
5.5
1720
BJW-3000X3000
14.8
210
700
Y225S-8
18.5
4613
Related Products
Online message
You can fill in your demand information in the form below, and our technical and sales staff will get in touch with you as soon as possible. In order to ensure that your information can be processed in a timely manner, please be sure to fill in your contact number accurately!