ADVANTAGES
01 The stirring strength of XJB flotation cell is strong. With good slurry gas trajectory, it is especially suitable for the flotation of heavy, fast settling, and coarse mineral materials.
02 It has special steady plates, which are composed by many curved blades with different lengths welded on the liner. It makes the mixture of slurry and air even distributing everywhere in the tank and avoids slurry rotating in the tank.
03 Large amount of air inflation, strong stirring force, and high dispersion of bubbles.
04 Even distribution of slurry, air and reagent
05 Fast speed of flotation
06 Complete models of flotation cells.
PRODUCT STRUCTURE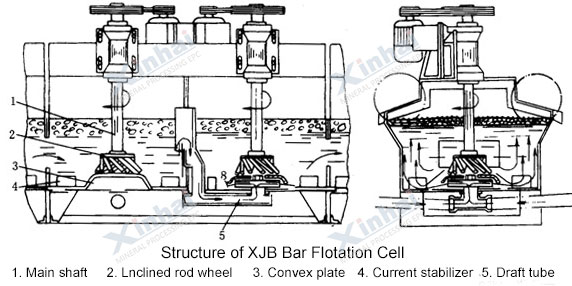 The bar flotation cell has air inflation agitation group consisting of oblique rod wheel, convex plate, arc stabilizer, etc. The impeller is consisted of a disc and 12 bevel cone bars. The rotating speed of bevel cone bar gets faster and faster while downing and agitation force gets stronger accordingly.
The negative pressure generated by the revolving impeller or rod wheel is used to suck the air from the hollow shaft, and then the flotation wheel divides it to form tiny bubbles, and then the impeller or rod wheel strongly stirs and throws it, so that the slurry and air are fully mixed, and under the action of the slanting rod of the flotation wheel, the useful mineral particles, which are treated with flotation reagents (collectors), are selectively attached to the bubbles and float to the pulp surface, and then scraped into the concentrate tank by the scraper, thus completing the separation.
Product Parameter
| | | | | | | | | |
| --- | --- | --- | --- | --- | --- | --- | --- | --- |
| Model | Tank Type | Effective Volume(m3) | Capacity(m3/min) | Impeller Diameter(mm) | Impeller Rotation Speed(r.p.m) | Motor Power for Agitation(kw) | Motor Power for Scraper(kw) | 4 Tank Weight(kg) |
| XJB-1 | Suction Tank | 1 | 1.5-1.7 | 400 | 440 | 5.5 | 1.5 | 5344 |
| XJB-1 | Direct Flow Cell | 1 | 1.5-1.7 | 410 | 410 | 4 | 0.8 | 5344 |
| XJB-1D | Suction Tank | 1 | 1.5-1.7 | 400 | 440 | 5.5 | 1.5 | 5479 |
| XJB-1D | Direct Flow Cell | 1 | 1.5-1.7 | 410 | 410 | 4 | 0.8 | 5479 |
| XJB-2 | Suction Tank | 2 | 1.5-1.4 | 450 | 360 | 15 | 1.1 | 9071 |
| XJB-2 | Direct Flow Cell | 2 | 1.5-1.4 | 540 | 360 | 11 | 1.1 | 9071 |
| XJB-2D | Suction Tank | 2 | 1.5-1.4 | 450 | 360 | 15 | 1.1 | 9320 |
| XJB-2D | Direct Flow Cell | 2 | 1.5-1.4 | 540 | 360 | 11 | 1.1 | 9320 |
| XJB-4 | Suction Tank | 4 | 2.0-4 | 700 | 280 | 18.5 | 1.1 | 16325 |
| XJB-4 | Direct Flow Cell | 4 | 2.0-4 | 510 | 280 | 18.5 | 1.1 | 16325 |
Related Products