Product introduction of linear vibrating screen
Working principle of small linear screen
Linear vibrating screen adopts double Driven by the vibration motor, when the two vibration motors rotate synchronously and in opposite directions, the horizontal excitation force generated by the eccentric blocks cancels each other out, and the vertical excitation force is transmitted to the entire screen surface, so the screen The trajectory of the machine is a straight line. The direction of the exciting force has an inclination relative to the screen surface. Under the combined force of the exciting force and the materials self-gravity, the material is thrown up and jumped forward on the screen surface to move forward in a straight line, so as to achieve the purpose of screening and grading the materials.
Advantages of small linear screen
Linear vibrating screen has high screening accuracy, simple structure, convenient maintenance, low energy consumption, low noise and sealing Good performance, reduced dust pollution, long screen life and other characteristics.
Linear vibrating screen product picture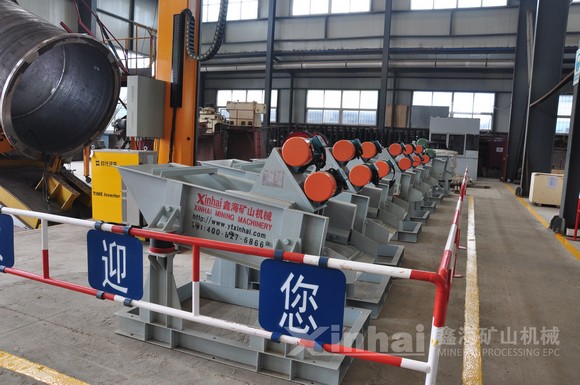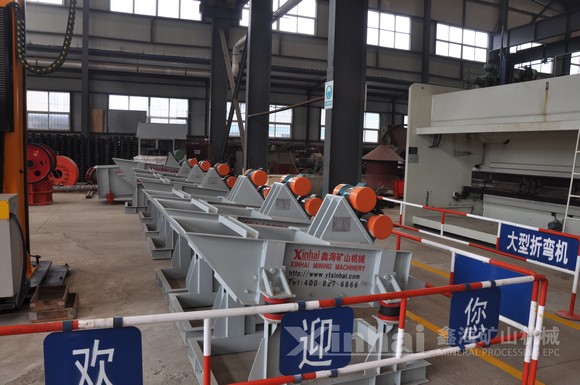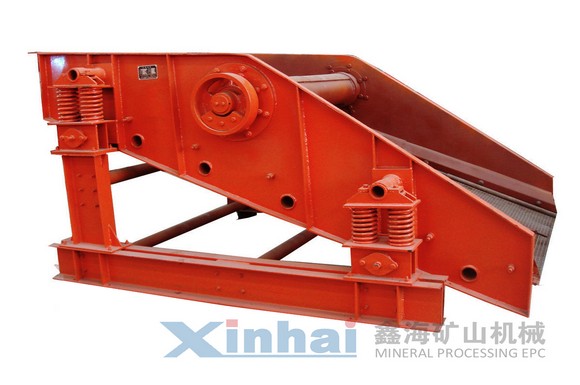 linear vibrating screen FAQ
What is the difference between Xinhai linear vibrating screen and other vibrating screens
Xinhai linear vibrating screen has adjustable screen surface angle, low motor power, generally only 1/4-1/5 of other screens; high screening efficiency; load transferred to the foundation Small, the foundation does not need special treatment; The screen is made of wear-resistant rubber material and has the characteristics of long service life. Receive unanimous approval from customers. Xinhai linear vibrating screen is suitable for dewatering, desliming, liquid removal and heavy medium removal in heavy medium ore beneficiation.
How to maintain the linear vibrating screen
(1) When the screen machine is running, its vibrating part must not be connected or contacted with any object outside the machine.
(2) When the material is fed, it should be fed in the width direction of the entire screen body at the inlet to ensure uniform distribution of the material on the screen surface.
(3) When the material falls, there must be no big impact to avoid damage to the screen.
(4) Before starting and stopping, there must be no remaining materials on the screen surface.
(5) If there is any abnormal noise during the operation of the equipment, it should be shut down and checked immediately, and the machine can be turned on after troubleshooting.
Product Parameter
Model
Screening area (m2)
Amplitude (mm)
Motor model
Single motor power (kW)
Speed (r/min)
DZS0412
0.4×1.2
2~4
YZS-3-6
0.25
970
DZS0415
0.4×1.5
2~4
YZS-3-6
0.25
970
DZS0612
0.6×1.2
2~4
YZS-3-6
0.25
970
DZS0718
0.7×1.8
2~4
YZO-10-6
0.75
960
DZS0816
0.8 × 1.6
2~4
YZO-10-6
0.75
960
DZS0912
0.9 × 1.2
2~4
YZO-10-6
0.75
960
DZS0918
0.9 × 1.8
2~4
YZU-10-6
0.75
960
DZS1018
1.0×1.8
4~6
YZU-16-6
1.1
960
DZS1020
1.0×2.0
3~5
YZO-20-6
2
950
DZS1225
1.25×2.5
3~5
YZU-16-6
1.1
950
DZS1530
1.5×3.0
3~5
YZU-20-6B
1.5
960
2DZS1530
1.5×3.0
3~5
YZO-20-6
2
950
DZS1536
1.5×3.6
3~5
YZU-20-6B
1.5
960
2DZS0918
0.9 × 1.8
4~6
YZU-25-6B
1.5
960
2DZS1018
1.0×1.8
2~4
YZU-20-6B
1.5
960
Related Products