Gold mine CIP carbon slurry process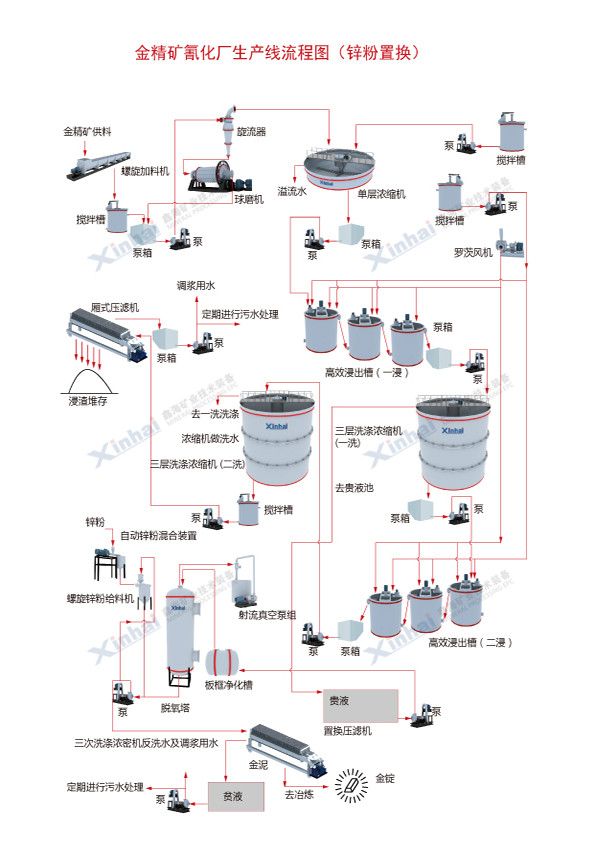 Process introduction
Pulp removal of impurities
The cyanide pulp should be treated with wood chips and other impurities before adsorption to avoid the gold and activated carbon in the wood chips from being absorbed into the pulp from being mixed into the rich carbon, and at the same time to prevent the wood chips from clogging the carbon screen.
Leaching and adsorption
Add activated carbon to the leaching tank. The activated carbon adsorbs the gold in the pulp to become gold-loaded carbon. After the adsorption is completed, the activated carbon is separated from the pulp by a carbon extraction screen.
Desorption electrolysis
Gold-loaded carbon in a closed system can quickly desorb and electrolyze into gold mud and lean carbon under high temperature and high pressure conditions.
Smelting
The obtained gold mud can be directly smelted to produce gold ingots after simple pickling and removal of impurities.
High efficiency, low consumption and fast desorption electrolysis system
The system is automatically controlled by high temperature, high pressure, cyanide-free, and desorption, which has the characteristics of high efficiency, fast speed and low consumption.
• High efficiency: When the gold-loaded carbon taste reaches 3000g/t, the desorption rate can reach more than 96%, and the poor carbon taste can be reduced by 50%-75% compared with the conventional desorption electrolysis device
• Fast: The desorption electrolysis temperature can be as high as 150℃ (30-55℃ higher than other models), and the system working pressure is as high as 0.5Mpa (generally 0.2-0.5Mpa higher than other models) Therefore, the desorption electrolysis time is very fast, generally 12 hours, which is shortened by 50%-75%.
• Low power consumption: The desorption electrolysis temperature is the same, no heat exchange is required, and the work is fast, so the total power consumption is 1/2-1/4 of the conventional system
• Cyanide-free: There is no need to add sodium hydride in the desorption solution, which is low cost and pollution-free
• Taste: Gold mud has high taste, no need for reverse electrolysis, easy extraction of gold mud
• Automatic control: Liquid level control system, temperature control system and automatic control system are specially set up
• Safety: With triple safety protection measures, that is, the system's own intelligence, automatic pressure limiting and pressure release mechanism, and insurance safety valve
Production case
In a domestic iron ore dressing plant, the crushing and screening process uses three stages and one closed circuit. After a period of operation, it is found that the motor load exceeds the original load during the entire operation, and the power consumption is heavy. Finally, it is found by comparison that Xinhai's linear vibrating screen motor has low power and high screening efficiency, which can better meet the requirements of crushing and screening. At the same time, the linear vibrating screen transmits a small load to the foundation and does not require special treatment, which saves costs. Reach the expected target and solve the problem of wear and tear.
Process Equipment